Peer-Reviewed Papers
Conference Papers and Talks
Qeadan, F., S. Malik, and J. Motta. goSmart Home Automation Software. 2006 Nevada Undergraduate Research Symposium, Reno, NV, April 2006. Abstract (pp. 33). [pdf].
Yang, W., F. Qeadan, L. Lotts, and M. Chino. Health Conditions and Behaviors of Nevada Hispanic Population. 24th Annual Behavioral Risk Factor Surveillance System Conference "BRFSS: Promoting Healthier, Safer People". Atlanta, GA, CDC, March 25, 2007.
Motta, J., F. Qeadan, S.M. Dascalu, S. Malik, and F.C. Jr. Harris. goSmart: A New Solution for Home Automation. In Proceedings of the International Conference on Software Engineering and Data Engineering (SEDE-2007), Las Vegas, NV, July 2007, pp. 1-8.
Biondi, F. and F. Qeadan. Removing the tree-ring width biological trend using expected basal area increment. In: S.D. Olberding and M.M. Moore (technical coordinators) Fort Valley Experimental Forest - A Century of Research 1908-2008, Conference Proceedings, USDA Forest Service, Rocky Mountain Research Station, RMRS-P-55, Fort Collins, CO, pp. 124-131, 2008. [pdf].
F. Qeadan, H. Jiang, L. Zhou and Y. Wei. Forecasting the 2020 and 2030 Demand for Radioactive Materials Used in Medicine. 2013 ASA Albuquerque Chapter Meeting. Santa Fe, NM, september 20, 2013.
F. Qeadan and P. Gravitt. Statistical Visualization for the Association between Soil Transmitted Helminth Infection and Changes in Immune Microenvironments at the Cervix. The 7th International Conference on Tumor Microenvironment: Progression, Therapy & Prevention. Tel Aviv, Israel, October 11-15, 2015. [pdf].
F. Qeadan, S. Dwivedi, K. Page and P. Gravitt. Modeling cytokines and chemokines through a rooted correlation network. Immunology 2016 Conference, Seattle, WA. J Immunol May 1, 2016, 196 (1 Supplement) 51.19. [pdf].
Technical Reports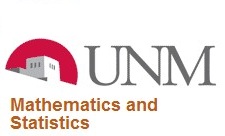 ---